DF3 Series Digital Force Gauges
The Chatillon® DF3 Series is a family of digital force gauges ideal for handheld and test stand applications. These battery powered gauges are used to measure axial tensile and compressive forces. The DF3 series is available in several capacities, making them suitable for various basic and complex applications.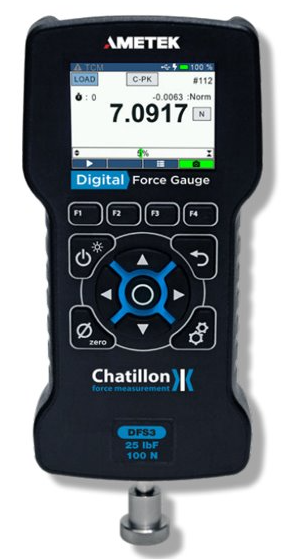 The following models represent the DF3 Series force gauges:
NOTE: The functions and features described in this user's guide may not be available on all DF3 models.
POWERING GAUGE ON/OFF The DF3 Series gauge has a dedicated power key. Depress the key for 2 seconds to turn the gauge ON or OFF.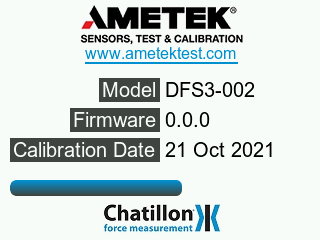 When the gauge is powered on, the Splash screen is displayed for approximately 5 seconds. This display shows AMETEK STC and Chatillon® logos along with Gauge Model, Firmware Version and the Last Calibration Date.